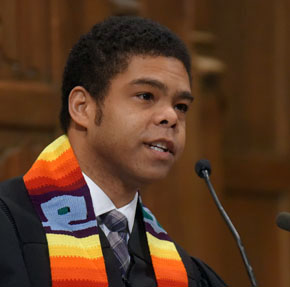 Joseph L. Morrow
Associate Pastor
for Evangelism and
Community Engagement
Email | 312.981.3399

---
Joe Morrow joined the Fourth Church staff in May 2018 in an interim role, as Minister for Evangelism, also serving as the primary pastor for the Jazz at Four. On Sunday, September 27, 2020, we were delighted to elect him as our Associate Pastor for Evangelism and Community Engagement.
Prior to his joining the Fourth Church staff, Joe served as Campus Engagement Manager for Interfaith Youth Core and prior to that was Youth Director at Edgewater Presbyterian Church. He also served in demoninational leadership, as the chair of the Presbyterian Mission Agency Board of the Presbyterian Church (USA) and as a member and vice-chair of the Mission Responsibility Toward Investment (MRTI) committee of the denomination, which works to ensure that the denomination's extensive investments reflect its values and are socially responsible by utilizing various methods of shareholder engagement and leveraging ecumenical and interfaith relationships.
Joe holds degrees from North Park Theological Seminary and Georgetown University School of Foreign Service. He is husband to Sung Yeon and father to Ella.