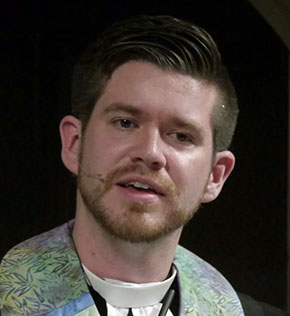 Matt Helms
Associate Pastor for
Children, Family, and Welcoming Ministries
Email | 312.573.3362
---
Matt Helms joined the Fourth Church staff in 2010, serving first as a Lilly Pastoral Resident for two years before later becoming an Associate Pastor.
Born and raised in Clarendon Hills, a suburb of Chicago, Matt initially attended the University of Wisconsin-Madison studying to be a sports statistician but ended up deviating from the mean and majored in religious studies, graduating in 2007. He returned to Chicago to pursue his M.Div at McCormick Theological Seminary, graduating in 2010 shortly before beginning his residency.
His Sundays are typically spent in the joyous presence of several dozen children, guiding them as they explore and grow in their faith in Sunday School and Children's Chapel – and he is deeply passionate about teaching and education.
He is married to Alison, an English teacher, and they live in Downers Grove with their two young sons, Elliot and Simon, along with their 15-year-old rescue Pit Bull, Zoe.