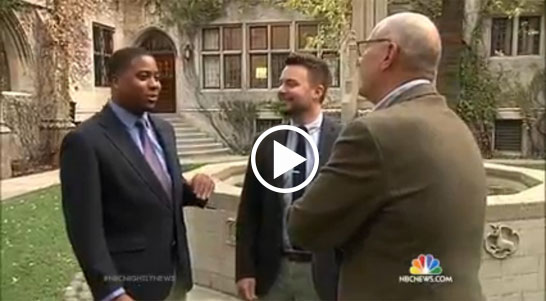 An NBC Nightly News segment shines a light on the life-changing difference Chicago Lights Tutoring makes in the lives of many.

---
About the Tutoring Program
Chicago Lights Tutoring matches 300 students with caring volunteer mentors to help them build academic and social-emotional skills, graduate from high school, and pursue meaningful careers. They are provided with innovative educational, arts, and enrichment resources that promote long-term academic and social success.
Young people in grades one through twelve—mostly from Chicago's Near North, Near West, and Austin/Lawndale neighborhoods—come to Tutoring for weekly one-to-one tutoring sessions with volunteer tutor/mentors.
In addition, the program offers healthy meals, creative enrichment classes, literacy activities, career development opportunities, access to a library and computer lab, high school scholarships, college preparedness, and art and digital music instruction.
---
Interested in Being a Volunteer Tutor/Mentor?
The Tutoring program welcomes volunteers who would like to be a tutor/mentor, whether committing to one evening a week during the school year or serving as a substitute to fill in when a student's regular tutor/mentor cannot be there. Details
---
Gifts to Support Tutoring
Chicago Lights Tutoring at Fourth Church is made possible by the contributions of supporters like you, whether through volunteering your time or by making a monetary gift online.
---
More information
The Chicago Lights website | Email Armedia Houston, Director